So..What Is An Open Box ? How Do I Use It ?
Open Box (Whats It All About ?)
So.. What is an Open Box. We have so many people message us not sure of exactly what it is let alone how to use it. With this in mind, we have created this page to try and help explain what it is, and more importantly, how to use it.
Well, in short, it allows you to place multiple orders, over a period of time, and have it all shipped to you in one go, and not when we want to ship it, but when you want it shipped. This means you only pay one lot of postage (slightly higher rate than standard flat rate postage) rather than postage every time you place a smaller order. Sounds good right...
We have designed our Open Box facility with complete simplicity in mind. Our back of house software does all the hard work and takes the headache away from you. In addition, if you have a registered account with us, you can log in any time and see all your orders that make up your Open Box.
Finally, there is no time limit that you can leave your Box open for, and there is no weight restriction either. So, you can keep it open as long as you like and put as much, or as little in it that suits you.
Below we have listed a basic step by step guide of how to use our Open Box feature.
Step 1 (Opening & Adding to an Open Box)
Place all your items in your shopping basket as you normally would if you were making a normal purchase.
Step 2 (Checking Out)
When you are finally ready to check out, head to your basket. At the bottom of the page, you will see two drop down menu's (See picture below). The first menu you must select the country (United Kingdom). The second menu is where you determine if you want your items shipped or placed into an Open Box.
If you want your items shipped and do not want to use the Open Box feature, then select "Ship My Order". Our system will then calculate your postage charge based on the weight in your basket. You can then pay and check out as normal.
If you want to place your items into an Open Box, follow the instructions below. Follow these same instructions if you are also adding to an existing open box.
In the second menu, select "Open Box (Add to Or Start New Open Box)".
By selecting this option, it does not attract any postage charge as you are simply paying for the items in your basket.
Then proceed to check out in the normal manner. This will notify Wax Magic Home Fragrance ® that you have opened or added to an "Open Box". In addition, you will have only paid for the items you have ordered, no postage will have been charged to you. You will receive an email confirming your items have been placed into an Open Box.
If in the future you want to add more items, just follow the exact same process. In addition, you will receive an email every time you add to your Open Box.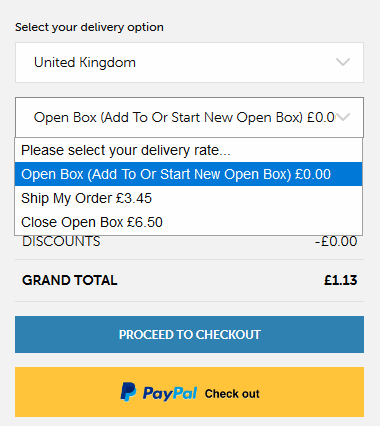 Step 3 (Closing Your Open Box)
Now, assuming you and filled your Open Box to the brim, and that you are ready to close it and have it all delivered, following these simple instructions.
(Note, to close your Open Box, you must make a purchase, an Open Box cannot be closed without making a purchase).
So, you're in your shopping basket and you're ready to close, simply follow the above process but instead of selected "Open Box (Add To Or Start New Open Box)", this time you select "Close Open Box" (See picture below). Once you have done this, proceed to check out in the normal manner, however this time, it will add only one postage charge. And that's it...Simple...Just wait for your waxy goodness to arrive in the post.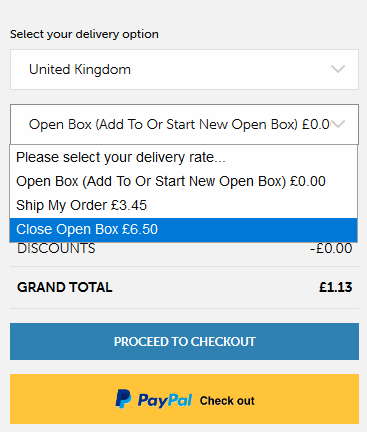 At every stage of every order you will receive regular automatic emails letting you know the status with each order you place into your Open Box. In addition, if you have registered an account with Wax Magic Home Fragrance ®, you can log into your account at any time and see at what status your order is at.
We hope this helps explain, we are always here if you need additional help, feel free to contact us anytime using the details at the bottom of this page.
Wax Magic Home Fragrance ®